Are strategy games with strong RPG elements your cup of tea? Did you enjoy games like Xcom: UFO Defence, the Fallout series, the Civilization series, the Heroes of Might and magic? And now you are looking for something new to satisfy your craving for turn-based fun? Then you'll want to play UFO2Extraterrestrials: Battle for Mercury, sequel to the 2007 smash hit UFO: Extraterrestrials.
18.06.15 |
Dear all, new screenshots of CAF naval base have been posted. ...
29.04.15 |
Please find the new screenshot released in the screanshot section....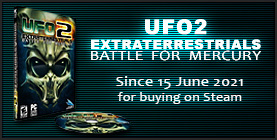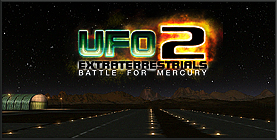 UFO2Extraterrestrials: Battle for Mercury
A fully 3D game combining real-time global strategy & air combat with turn-based tactical missions
A turn-based "I-Go-You-Go" tactical squad-based game system
Interactive environments with destructible terrain
A large number of technologies, weapons, and combat units to develop
A large number of aliens to interrogate Strong RPG elements where soldiers' stats improve with experience
Dynamic lighting for intense fire-fights
Final Gameplay design and balance tweaks by the author of the popular original UFO: ET Bman Ease of Use Mod
UFO2Extraterrestrials: Shadows over Earth
Currently under development simultaneously with UFO2Extraterrestrials: Battle for Mercury